Bonefish Grill Copycat Recipes:
How To Make The Best Secret Recipes
Update: February 29, 2016 - Much to our dismay (as it had become our go-to place to celebrate birthdays), it would seem that the Bonefish Grill abruptly closed its doors on Monday. Sorry to see it leave the immediate area.
It would be nice if they considered relocating within an equally short driving distance from home!
Currently, the Centreville location (12 miles) at 6315 Multiplex Drive, in Centreville, VA 20121-5327; Telephone 703-815-7427 is the closest location to Woodbridge.

On this page:
Can't decide where to have dinner?  Keep a gift card in your wallet good at any of the Bloomin Brands restaurants
!
The Bonefish Grill® Is Awesome!

Bone Fish Grill Fall Martinis from The Digest Online
To put it mildly, Bonefish Grill® is awesome. I'm also hoping the Bonefish Grill® copycat recipes from very close to an authentic taste because I intend to make them often.
I hold them responsible for my newly discovered love of martinis (and the food is great too)  :-)
My first experience at Bonefish was for a Girls Night Out several years ago and a love affair was born. I have not had a bad experience there - ever.
I would recommend, however, that you try to make reservations.
The restaurant in Woodbridge is directly next to Best Buy off the Prince William Parkway.
From the Bang Bang Shrimp©, a wonderfully spicy shrimp appetizer, to the Florida Cobb Salad©, a super fresh version of an old favorite, everything on the menu is delicious!
You may get lucky early in the evening or on a weekday, but during "prime time" on a weekend there will be a killer wait.
So, how's the food?  I am truly a slave to the
Florida Cobb Salad
.
On a normal day, I love "regular" cobb salads, but Bonefish's version with
blue cheese and mango
.
I am drooling as I write. My husband loves their surf and turf options.
Oh, and you can bring the kids too. I thought that it was too fancy for them, but after seeing the yummy kids menu, I knew I had to bring the boys there too.
My kids are naturally adventurous eaters, so they've enjoyed the kids' Tilapia (and have even ventured into the "big" boy menu).
Last, but certainly not least, are the martinis. I don't normally make drinks such a focus, but they are out of this world.
The Hynotiq martini, complete with glow stick, is so much fun for you and the girls, but you have to try their seasonal specials.
I've had wonderful apple martinis in the fall and a winter white cranberry martini that was just perfect.
 Delicious Restaurant Copycat Recipes: Make Your Favorite Restaurant Menu Items In The Comfort Of Your Own Home!

 Outback Steakhouse Bloomin' Onion, Long John Silver's Fish Tacos, TGI Friday's ... Molten Chocolate Cake

 Top Secret Recipes Step-by-Step: Secret Formulas with Photos for Duplicating Your Favorite Famous Foods at Home

 KFC Secret Recipes: KFC Style Chicken Recipes (u=including grilled), Sides, Salads and Desserts

&
I think it's time to head back to the nearest Bonefish or at least prepare more of....
Wonderfully spicy shrimp appetizer! I've come across varying recipes for copy cat recipes but the sauce is what makes this addicting shrimp dish whether you use
Mexican Cholula sauce
 or a  fiery 
Thai chili garlic sauce
.
Raining Hot Coupons
.
Regular Cobb salads always hit the spot but
this
version?  Just plain wow!  
Blue cheese and mango
and dressed to perfection.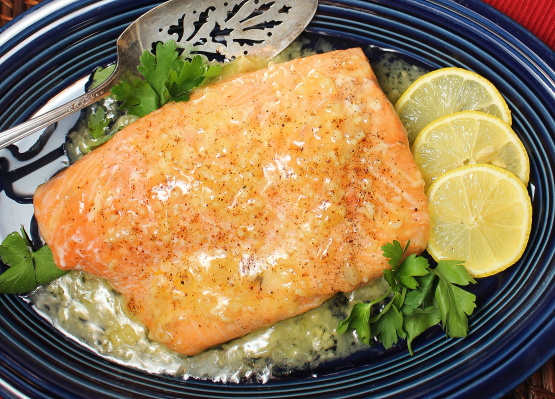 Sure - you can
buy ready made lemon butter sauce
for seafood at your neighborhood supermarket but believe me when I say that this sauce is too easy not to make at least once.  
Try this sauce on salmon
but it tastes spectacular on
halibut or cod
.  
Add tiny capers
- they give a delicious little burst of tang. You will never use the bottled sauce again!
Food.com
I would eat this filling by the spoonful - as is.  Added to a thick fish fillet but
halibut is a mild fish
and the perfect foil for this
decadent stuffing
!
ifood.tv
.
Use warm and fresh
ciabatta rolls
or French rolls.  Maybe you can bake a loaf of
Pillsbury© French bread
for this very purpose.  You want a roll or sliced bread with a crispy crust so there is something to hold onto.
Otherwise, like me, the finger tips will be in the oil!  :-)
Don't be afraid of garlic.  Two cloves of fresh garlic is not sufficient.  I also recommend a shallow bowl because this tiny flat plate, although cute as can be, does not hold nearly enough dipping sauce for one person.
If I know Mom, as soon as she finds another Bonefish Grill copycat recipe, she'll be making her version to post to the Personal Cookbook!